Viking and Anglo Saxon Workshops
For Schools, Clubs and Museums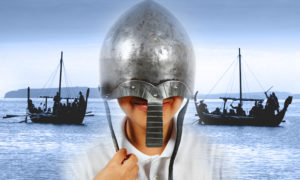 Welcome to Viking School Visits!
Viking School Visits provide high quality Viking and Anglo Saxon workshops to schools, colleges, museums and community groups. For more information about what we do, use the menu above, or send us an email.

"Just had the most amazing day with Njal. An absolutely action packed superb day! So much hands on experience for the children. An amazing learning experience all packed into one day. We sailed the oceans, fought battles, raided monasteries, made bread, analysed viking hoards , worked on the forge, made linen… the list goes on! Njal was superb. He taught them everything they needed to know about Vikings and more. I will definitely rebook next year. I cannot recommend this enriching experience highly enough!! It's a must!"

~Sara Peters, Autumn 2015
NEW VISITORS FOR 2017
Lots of quality visitors coming on board to extend our geographical range, but still keep the costs down for schools. If you're looking for highly experienced, authentically presented, professional visitors presenting fun, exciting and inspiring workshops, then look no further!
Central England
Ornali Eitrmudr Patricksson Ronaldsson Haraldsson
David Henderson
David combines his many years as a Viking and Anglo Saxon re-enactor with his "real world" experience working with excluded children. One of the leading warriors in the Vikings society, he is also a keen actor and storyteller and gives children a brilliant day with weapons and battle practice, a wide range of hands-on artefacts to explore, and plenty of drama, games and role-play to get inside the head of a "real Viking".
Western England & Wales
Sigurd Grevlingvinr Bjornesson Alfredsson Haraldsson
Julian Green
Sigurd hails from Avaldesness, the seat of the old kings of Norway. Betrayed by his treacherous brother, this viking Jarl travelled the North Sea to settle in the Anglian kingdom of Mercia. Sigurd now spends his days teaching youngsters the ways of the Vikings: their rich history, methods of combat and how they live day to day.
Sometimes, Sigurd pretends to be an Englishman named Jules (Julian) Green, but not too many people are taken in by this unconvincing act. Jules has been reenacting the dark ages period since 2005 and loves nothing more than to turn a few stomachs by discussing the finer grisly details of battle.
South West England
Thorgest Armfinnson
Tom Armstrong-Frost
Tom has always been interested in history and spent most of his formative years visiting castles, abbeys and other historic sites. He first started in historical shows through being a keen archer and then went on to squire for Jousts. Since then he has learnt to ride and now performs in shows up and down the country both on foot and on horseback. His favourite part of teaching history to children is story telling and helping them to learn what the past was like.

"We had a fantastic day – the children have all written you letters which I just need to post. We had open evening last night and all the parents were full of praise for how much the kids had enjoyed the day and how much they had learned – thank you again!"
~Ryarsh School, Kent, visited in 2012, 2013, 2014, 2015
Activities are varied and fun, covering all aspects of Viking life from warfare to weaving, conquest to childcare, and we always make sure to dispel any myths along the way!
For more details of what a day involves, click on the school visits link above, or contact us to talk about your requirements and to get a no obligation quote.
We can boast a long string of satisfied customers with many schools and groups inviting us back year on year. References can be provided by request or click here for some testimonials.
"Wonderful! So informative and such a lively presenter – one of our favourite talks of the year! The clients are still talking about it" – Trinity Family Centre Pensioners Group, Southend, visited 2012, 2013, 2014
We are fully insured and CRB/DBS checked, and we cover the whole of England, Scotland and Wales, but with some of our visitors hailing from Northern Ireland and the Isle of Man, other areas may be possible by special arrangement – please email for details.
" The delivery was engaging and exciting, covering a whole range of topic foci across three classes work. There was an excellent range of vocabulary used in context where the children could understand it's meaning. Childrens misconceptions were addressed tactfully and concisely, encouraging them to develop thinking and reasoning skills throughout the day. We will be highly recommending the event to anyone with an interest in history. We cannot describe just how much the children ( and adults ) took from the day. Thank you!!!"
Mrs Dodsworth, Thorpe Willoughby Primary School, Selby