Hi Dom,
I meant to email you before but just wanted to say what a wonderful day the children had when you came to Sunnymede. They got so much out of the day and it has really inspired them in their writing.
I'm sure we will be in contact next year!
Teresa
~Sunnymede Primary, Billericay 2015
Dear Domini,

I am writing to say a huge thank you to you and Julia for the amazing day last week. The effort, energy and passion that you both put into all of the activities was incredible; you had the children engaged, enthused and, at some points, spellbound!

Your resources and artefacts are wonderful, and particularly impressive, given the fact that you make many items yourself. You were able to provide knowledge and experience to the children that we simply would not have been able to do within the parameters of a 'normal lesson'.

Thank you also for being so flexible with regards to last minute alterations and 'mix-ups'. I can assure you that it was made very clear back in September that we would require the hall all day, but thankfully it all worked out in the end.

All the children had a fantastic day and have been talking about it ever since. I have attached a selection of letters from the children themselves.

I really hope that you would consider returning to Hamsey Green in the future. If I am still teaching in Year 5 next year, I will certainly be in contact!

Warm wishes,

Sarah and the Year 5 team
~Hamsey Green Primary School
Viking visit 9 October 2014 – Capel St Mary, Ipswich
"Unit 3 travelled back to the Vikings times today with the help of a very fierce and fascinating Viking. The children (and staff) fitted in very well as they had the perfect Viking outfits for such an occasion. They were able to handle weapons and stand in battle lines. In fact you could probably hear their battle cries from home!
There was some amazing drama from a selection of children who acted out the story of when Thor's wife had her beautiful golden hair cut off. We clearly have some stars in the making for our production in the summer term.
A few poor souls had to attend Viking court as they had been accused of killing a villager's pig. As the jury couldn't reach a unanimous decision their fate was in the hands of the Viking Gods.
There were many interesting artefacts to study including antlers, drinking horns, bowls, combs and deer furs.
The day ended with a warrior's funeral. What a send off this brave warrior received!
Luckily Unit 3 arrived back to the present day just in time to go home!"
Unit 3 team

"Thank you for the brilliant workshop, your endless enthusiasm and excellent subject knowledge. Children as well as teachers were mesmerised by everything that was happening in the room and many came to thank me afterwards and I reassured them that I shall pass on their thanks to their rightful owner. I am fascinated by the way you organised the timeline: all the children involved told me they are now experts at their century."
~ Kateryna Konstantinova, Head of Yr 5, Avenue Primary, Newham, visited 2012, and 2014 twice (Saxons and Vikings)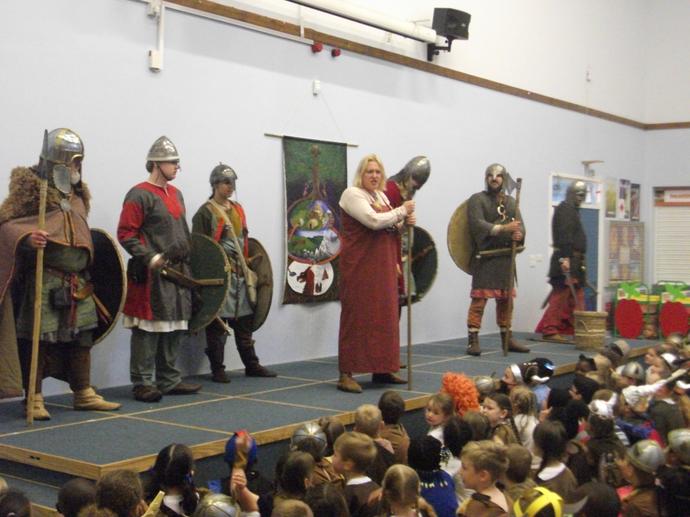 We provided a Viking day for the whole of Northumberland Heath Primary School. 500 pupils from Reception to Year 6 were entertained and educated for the entire day! See the pictures and read the review here

"The Children thoroughly enjoyed the 'hands on' aspects of the day – touching the artefacts, trying on clothes, making butter and flour. The Visit served to highlight what the children had remembered about previous class work and they acquired new knowledge"
Mrs Chadwick, St Josephs RC Primary, South Elmsall
" The Visit was central to our work on the topic. Pupils interacted well with Jude – they were interested in all she said and did. We would certainly repeat this visit next year"
Mr Toepritz, Knowleswood Primary, Bradford
Newspaper report on our visit to Orwell Park School, Suffolk.
Vicky Hunt, head of Year 3 at the school, said: "It was a wonderful opportunity for the children to learn history by re-enacting Viking life
.
" Your Range of artefacts / resources were extensive, very impressed. As were the children. You brought the topic to life, thank you for a wonderful day! "
Ms Rowley , Gorseybrigg Primary, Dronfield, Derbyshire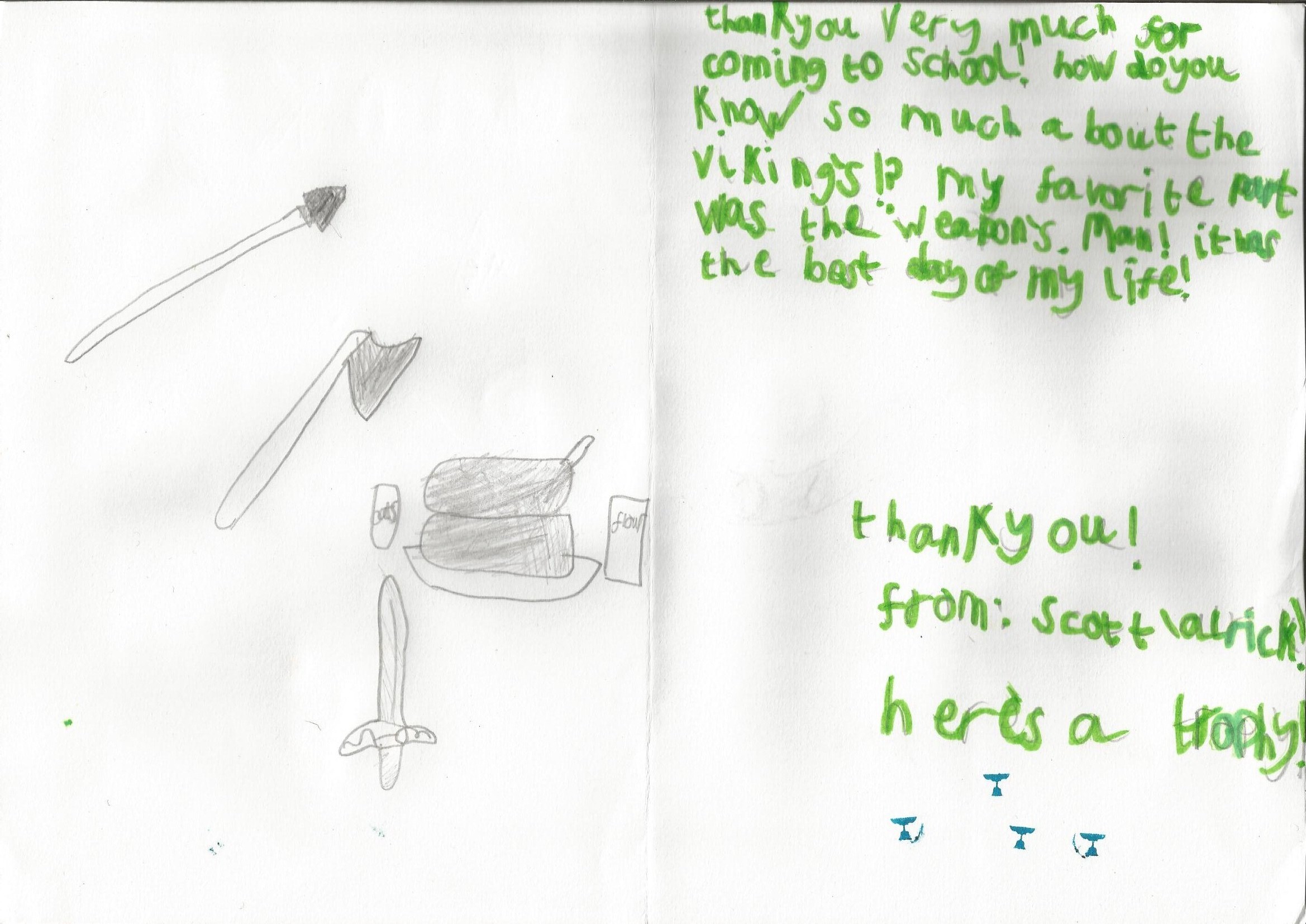 " The delivery was engaging and exciting, covering a whole range of topic foci across three classes work. There was an excellent range of vocabulary used in context where the children could understand it's meaning. Childrens misconceptions were addressed tactfully and concisely, encouraging them to develop thinking and reasoning skills throughout the day. We will be highly recommending the event to anyone with an interest in history. We cannot describe just how much the children (and adults) took from the day. Thank you!!!"
Mrs Dodsworth, Thorpe Willoughby Primary School, Selby
"Of course we remember you! Our year four teachers were talking about you only the other day to rebook!"
~Immanuel and St Andrews Primary, Streatham
Jorun visited Ashgrove School in Bromley for a Viking day for 100 pupils from reception to Year 6. Read the school's report here

An exciting time was had by all when a Viking by the name of Jorun Njarlsdottir came to visit. She showed us all sorts of artefacts and everyone had to learn to defend and attack "Viking" style. Some children took part in a trial and others acted out the story of "How Thor Got His Hammer".

It was a most enjoyable and fun way to learn about our early Viking settlers.
" Very easy to book and organise via email. Well organised and ran smoothly, the artefacts were superb. The chldren learned a lot and were enthused by the day. Thank you Jude, you were a delight to work with and we were impressed by your knowledge and manner with the children"
Mrs Williams, St Dominics RC Primary, Barnsley
" This was a fantastic way to launch our topic and the children thoroughly enjoyed your visit. Thanks for a great day!"
Miss Jones, Tupton Primary, Tupton, Derbyshire
" Thorhild was well prepared, even to the extent of researching our village , which got the childrens interest. They were captivated by Thorhild even though at times they sat for a while. A specialist SEN teacher stopped and watched this and commented that she had never witnessed a 'visitor' to a school hold childrens interest for such a long time. Not once did their interest waiver, this was due to Thorhilds presence."
Mr Gunn, Thornaby Village School, Teeside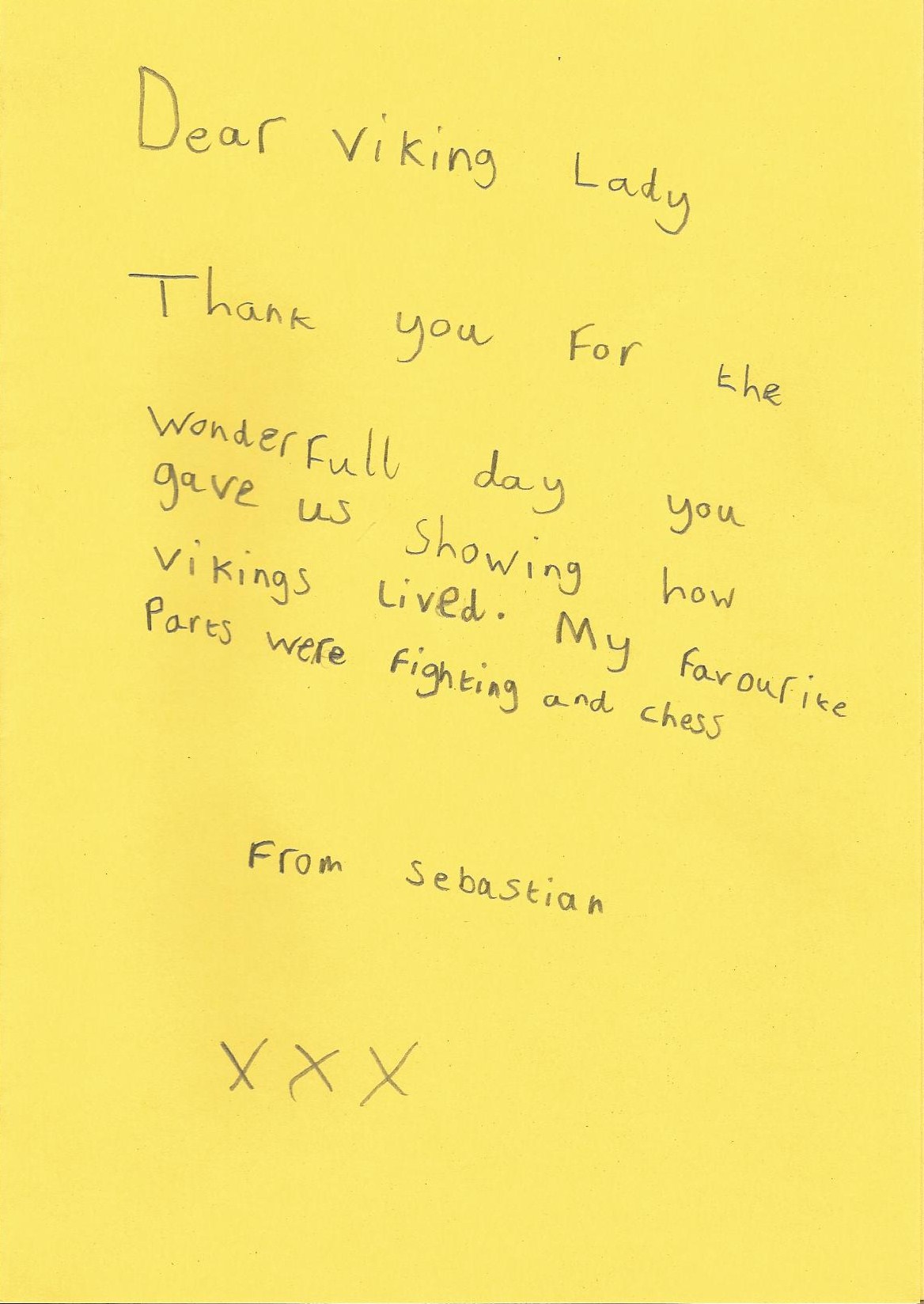 " Very short notice on our part, but excellent response from you. Well organised and fun. Very informative. Excellent day, enjoyed by pupils and staff. Thank you."
Mrs Cooper, Copley Primary, Halifax
" Very informative and well structured. Lots of topics excellently covered in a short space of time with fantastic resources and artefacts. Worksheets were excellent and simple for me to use at a later date. A fantastic day which pupils could all access, they learnt a vast amount and were buzzing with excitement throughout the day."
I Brown, Stakesby Community Primary, Whitby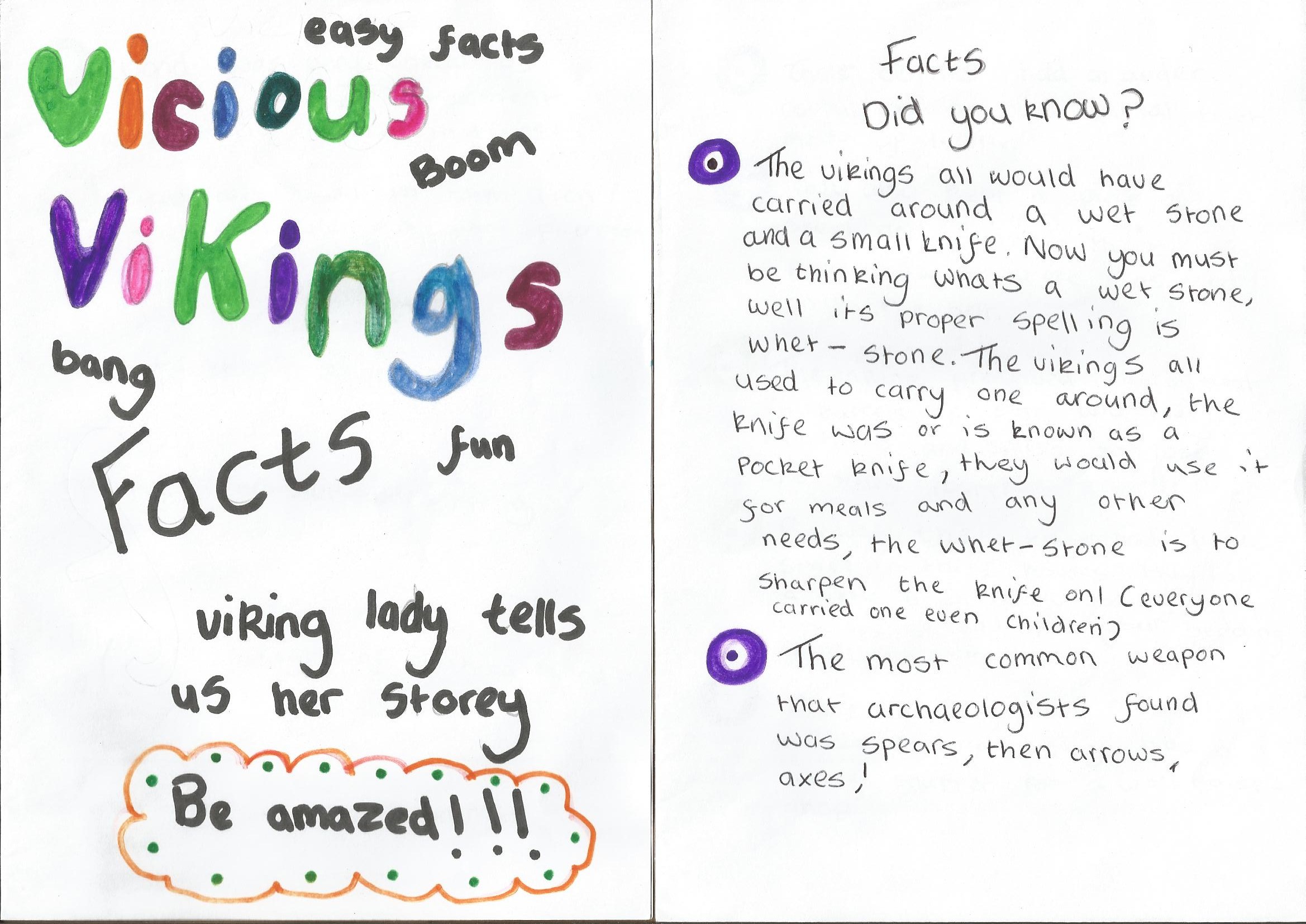 "A fantastic day, everyone worked hard, been kept busy and found out lots of facts. We've spent half a term working on the Vikings , the visit into school was fantastic, providing lots of extra details and experiences."
Year 3/4 teachers, Howden Junior School, Howden, East Yorkshire.
"Brilliant visit, the children were thoroughly enthused by the day. Thank you very much."
Mrs E Dodsworth, Oakdene Primary School, Billingham, Teeside.
"Thorhild was fantastic She was very entertaining and talked to the children appropriately. her knowledge and expertise was of great benefit to the children. They learnt so much and it was great fun that they will not forget. Outstanding day!"
Mrs Marshall and Mrs Wright, Pheasant Bank Academy, Rossington, South Yorkshire.
" Well organised and perfect for our pupils. Content and topics linked well with our recent work. Thorhild brought an impressive collection of artefacts and was very good with the children."
Mr J. Hodgson Ainderby Steeple Primary, Morton On Swale, N Yorks.
"An excellent, informative and enjoyable day which the children really enjoyed"
Elaine Tuley, Lord Street Primary, Colne, Lancs.
"Children were very engaged and could talk and write at length about what they leanrt on the day."
Sandra Dodds, Gillas Lane Primary, Houghton le Spring, Co Durham.